Deepawali – Chinese exporters set to to suffer Rs 50,000 crore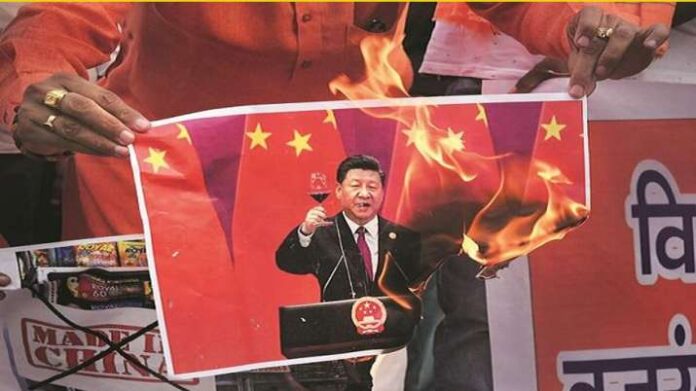 New Delhi. Chinese good sellers in the country are going to suffer a huge amount of loss ahead of Diwali and other festivities, this year.
"Like previous year, this year too CAIT has given a call of 'boycott Chinese goods' and it is certain that China is going to suffer a business loss of about ₹50,000 crore in terms of stoppage of import of Chinese goods by Indian traders," stated CAIT in the statement on Friday.
Confederation of All India Traders (CAIT), has said that the estimated losses amounting to nearly 50,000 crores will be suffered by the Chinese exporters this year, owing to the ban of products from China in the domestic markets.
On the contrary, the Indian government's step to ban crackers and other cheap festival products from China this year will benefit directly the homegrown industries of India. As per the statement issued on Friday, Indian markets will undergo a major boost this Diwali considering the spike in the number of customers in markets across the nation ahead of the festive season. The Indian economy may receive as much as Rs 2 lakh crore through consumer spending during the Diwali sale.
Notably, it has been observed that Indians are mostly falling out of interest in buying Chinese products, which is likely to increase the demand for Indian goods.
Praveen Khandelwal, CAIT secretary-general said that a survey conducted by the body's research team in 20 'distribution cities' revealed that so far no orders for Diwali goods, firecrackers, or other items have been placed to the Chinese exporters by Indian traders or importers.
Meanwhile, these 20 cities include New Delhi, Ahmedabad, Mumbai, Nagpur Jaipur, Lucknow, Chandigarh, Raipur, Bhubaneswar, Kolkata, Ranchi, Guwahati, Patna, Chennai, Bengaluru, Hyderabad, Madurai, Pondicherry, Bhopal, and Jammu.
During the festive season which counts from Rakhi to New Year's Day every year, Indian traders and exporters import goods worth nearly Rs 70,000 crore from China. Although this year, during the Rakhi festival, Dragon suffered losses of nearly Rs 5,000 crore and again Rs 500 crore in Ganesh Chaturthi.
If this trend continues, not only the traders of India will be boycotting Chinese products but also the customers will lose interest in buying goods made by China.